June 27, 2019
A new white paper from 4sightHealth explores the case for using clinical decision apps during in-hospital cardiac arrests (IHCAs) to improve survival rates in "A GPS for Cardiac Arrest: In Life-or-Death Moments Clinical Apps Save Lives."
David W. Johnson, healthcare expert and 4sightHealth CEO, and Jeff Dunn, Redivus Health CEO, present the evidence and rationale for using smart applications for cardiac arrest. Read this excerpt from the white paper:
HOW CODE BLUE APPS ANSWER PATIENT NEEDS
With a complicated, time-sensitive protocol, a Code Blue is one of the most crucial emergencies to support with a clinical-decision application. Knowing cardiac arrests happen everywhere in the hospital, that Code Blue app must work on a mobile device (tablet or smartphone) at the point of care. It must have a user-friendly interface that staff can read and enter data throughout the episode.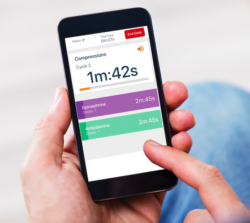 The app must give clear directions that guide clinical teams through cutting-edge treatment protocols with step-by-step instructions, directions and checklists. The app augments decisions the bedside team makes, then documents the steps they follow. It gives intuitive on-screen prompts that eliminate distractions and keep teams focused on delivering lifesaving measures, in the right order and for the right amount of time.
Think of it as a GPS for cardiac arrest on your smartphone: Start code. Receive directions. Confirm steps. End Code.
During a Code Blue, clinical-decision support tools can address the five variables that cause clinical staff to deliver suboptimal care:
Reduces concerns about inexperience because staff doesn't rely on memory to remind them what to do when, regardless of the course the code takes.
Mitigates location because it's portable, and staff can use it on any handheld device in any location in the hospital to provide the same quality of care.
Improves care team effectiveness because the app puts every member of the care team, no matter how disparate, on the same digital page during the emergency.
Neutralizes staff hierarchy because the app is agnostic and doesn't distinguish between degrees, specialties or organizational charts.
Decreases stress and anxiety because it calmly and objectively tells team members exactly what to do in a chaotic situation.
An app like this will give your staff the clinical-decision support tool needed at the point of care to achieve 100 percent compliance with ACLS. And give IHCA patients their best chance to survive.
Read the complete white paper (or download the PDF)
Listen to the Market Corner Conversations podcast interview